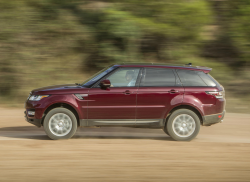 — Land Rover Range Rovers are recalled to repair problems with the doors that remain unlatched when they are closed.
More than 28,600 model year 2016 Range Rovers and Range Rover Sports may have keyless vehicle latching systems that can get stuck.
Land Rover says the problem occurs on the left doors which can open while the vehicles are moving.
Land Rover opened an internal investigation after the National Highway Traffic Safety Administration (NHTSA) contacted the automaker about a federal investigation.
Federal safety regulators said Land Rover customers continued to complain about unlatched doors even though the vehicles were recalled and allegedly repaired in 2015.
Customers were reporting doors they thought were closed but that never latched, and no warning messages or alerts indicated a problem. All the complaints said the left doors were affected, and some owners said they were driving when the doors opened.
Engineers determined springs in the keyless vehicle latching systems can jam between the outside transmission levers and the chamfer bushes. The stuck springs will prevent the latch assemblies from returning to the correct positions and prevent the doors from latching closed.
Engineers focused on any possible problems with the unilatch keyless vehicle door latch and found the supplier hadn't met design specifications.
Land Rover says no crashes or injuries have been reported.
The Land Rover Range Rover recall will begin July 19, 2019, when dealers will replace the left-side door latch assemblies.
Owners may contact Land Rover at 800-637-6837 and use recall number N336.