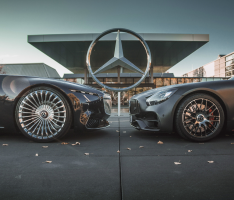 — Arizona Attorney General Mark Brnovich has filed a consumer fraud lawsuit against Mercedes-Benz and Daimler alleging multiple Mercedes BlueTEC diesel vehicles contain illegal emissions devices.
The Arizona lawsuit alleges similar allegations against Mercedes that were leveled against Volkswagen concerning emissions "defeat devices" that alter nitrogen oxide emissions levels during testing.
According to the Arizona complaint, Mercedes-Benz equipped the following vehicles with defeat devices so the vehicles would pass emissions tests, all while emitting illegal levels of pollution during real-world driving.
2007-2016 Mercedes-Benz ML 320
2007-2016 Mercedes-Benz ML 350
2007-2016 Mercedes-Benz GL 320
2007-2016 Mercedes-Benz E320
2007-2016 Mercedes-Benz S350
2007-2016 Mercedes-Benz R320
2007-2016 Mercedes-Benz E-Class
2007-2016 Mercedes-Benz GL-Class
2007-2016 Mercedes-Benz ML-Class
2007-2016 Mercedes-Benz R-Class
2007-2016 Mercedes-Benz S-Class
2007-2016 Mercedes-Benz GLK-Class
2007-2016 Mercedes-Benz GLE-Class
2007-2016 Mercedes-Benz Sprinter
The suit alleges Daimler, the parent company of Mercedes, committed fraud against Arizona consumers by falsely representing the BlueTEC diesel vehicles are good for the environment.
Attorney General Brnovich claims the affected BlueTEC vehicles were sold based on being "the world's cleanest and most advanced diesel" with "ultra-low emissions, high fuel economy and responsive performance" that emits "up to 30% lower greenhouse-gas emissions than gasoline."
Those advertisements allegedly mean Mercedes committed "false and deceptive acts and practices."
Arizona consumers who leased or purchased BlueTEC diesel vehicles allegedly were ripped off because they didn't know the only way the vehicles achieved advertised fuel economy was to manipulate the emissions controls.
The attorney general claims Mercedes customers wouldn't have paid what they did for the diesel vehicles if the automaker would have admitted illegal emissions devices were installed on the vehicles.
Arizona is following its own pattern seen in the Volkswagen emissions scandal when the attorney general succeeded in recovering about $40 million for Arizona consumers. With Arizona law allowing for $10,000 in penalties per violation, Mercedes-Benz could be looking at $50 million in fines.
Daimler has walked this road before when German regulators accused Mercedes of selling hundreds of thousands of vehicles with illegal emissions devices.
CarComplaints.com has owner-reported complaints about numerous Mercedes models.