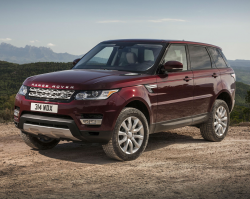 — A Range Rover door latch recall has been ordered for owners who have been down this road too many times.
Land Rover says nearly 65,400 model year 2013-2016 Ranger Rovers and 2014-2016 Range Rover Sports have door latch problems that cause doors to appear to be closed, but appearances are deceiving.
The problem is the keyless vehicle latching systems that can cause the unlatched doors to open while driving.
A Range Rover door latch recall was issued in 2015 for 2013-2016 Range Rovers and 2014-2016 Range Rover Sports for the same problems, but continuing complaints caused the government to open a door latch investigation in 2017.
In response to the National Highway Traffic Safety Administration investigation, Land Rover said there were defects in the control logic of the keyless latching system release motors. The errors blocked the release levers from returning to the "home" positions, making it appear the latches and strikers were securely connected when they weren't.
Range Rover dealers told customers the software for the keyless latch systems would be updated to secure the doors, but safety regulators determined owners kept complaining about unlatched doors after recall repairs were performed.
Range Rover owners also said their vehicles suffered from the same latching problems but the SUVs weren't included in the 2015 recall.
Just days ago Land Rover announced a Range Rover door latch recall for 2016 models that were recalled in 2015 because customers were reporting they had no idea the doors were unlatched until the doors opened while the vehicles were in motion.
Land Rover engineers conducted tests of the "Unilatch Keyless Vehicle" door latch systems along with engineers from the supplier of the systems. The tests confirm the original recall repairs haven't fixed the latch problems.
A door opening while driving is a severe safety hazard but the automaker says no crashes or injuries have been reported.
The Range Rover door latch recall will begin July 19, 2019. Land Rover dealers will download the latest software which will disable the keyless vehicle entry functions.
Technicians will check the motor operations of the systems to learn if no pre-existing errors have occurred prior to the latest software updates. Any affected keyless vehicle mechanisms will be mechanically disabled if errors are found.
Customers should ask Land Rover about reimbursements if out-of-pocket expenses have been paid.
Owners who have already had the vehicles "repaired" under the previous recall will need to repeat the process, but any questions should be directed to Land Rover at 800-637-6837. Land Rover's number for this recall is N335.
CarComplaints.com has complaints about Land Rover vehicles.