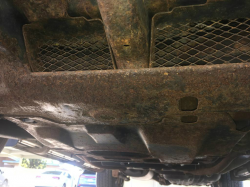 — A Toyota 4Runner rusted frame lawsuit alleges a recall should have been ordered long ago for 2005-2011 4Runners that allegedly suffer from corrosion so severe the weakened frames make it dangerous to ride in the SUVs.
But as the proposed class action works its way through the court system, attorneys for Toyota argue the plaintiff hasn't presented any valid legal claims.
Plaintiff Gary Weinreich says a mechanic discovered excessive frame rust on the 2005 Toyota 4Runner Sport in 2011 that eventually spread to the exhaust components and shocks.
The plaintiff says he was again told about the severe rust problem by a repair shop in 2017, so he emailed the automaker and was allegedly told he was responsible for paying for any repairs.
The 4Runner lawsuit says things drastically changed in May 2018 when the steering wheel allegedly started shaking violently because corrosion finally broke the right front control arm of the SUV.
Weinreich claims the 4Runner frames and other parts don't have enough coating to protect against corrosion and Toyota allegedly knows it based on previous actions taken on other models.
Rust problems in Tacomas caused a recall of 690,000 trucks in 2016, and separately the automaker settled a massive class action corrosion lawsuit. The suit included Tacoma, Tundra and Sequoia trucks that were prone to suffer from frame rust, but the $3.4 billion dollar settlement didn't include 4Runner SUVs.
In a motion to dismiss the 4Runner rusted frame lawsuit, attorneys for Toyota argue the plaintiff fails to establish any legitimate claims against the automaker.
According to Toyota, the plaintiff drove his 2005 4Runner for more than 12 years, far beyond the valid implied warranty period. In addition, the express warranty claim allegedly fails for the same reason as Toyota met its warranty commitments long ago.
Considering the state-based express and implied warranty claims allegedly fail, Toyota says this necessarily means alleged violations of the federal Magnuson-Moss Warranty Act must be dismissed.
Lawyers for Toyota also told the judge that plaintiff Weinreich can't make a claim for injunctive relief considering it "fails because it is not a valid cause of action, requiring its dismissal on that ground."
Toyota also argues the lawsuit is missing any "actionable misrepresentations" to assert a claim for negligent misrepresentation.
The Toyota 4Runner rusted frame lawsuit was filed in the U.S. District Court for the District of South Carolina, Charleston Division - Weinreich, et al., v. Toyota Motor Sales, et al.
The plaintiff is represented by the Bell Legal Group.
CarComplaints.com has owner-reported complaints about the SUVs.
Toyota 4Runner - 2005 / 2006 / 2007 / 2008 / 2009 / 2010 / 2011 / All model years