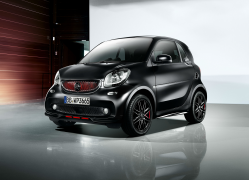 — Mercedes-Benz says model year 2019 smart cars will be the end for the battery-electric minicars in Canada and the U.S. as Daimler prepares to manufacture the cars in China.
Mercedes says various factors influenced the decision, including the job and cost of taking cars that are legal in Europe and making those same models legal based on U.S. standards and regulations.
The U.S. and Canadian popularity of trucks and SUVs also convinced Mercedes to pull the plug on the tiny cars that were really made for city-based driving.
Mercedes sold only 90 smart cars in the U.S. in March 2019 as the all-electric models offer only 58 miles on a single charge, not much when compared against other electric vehicles that offer 250 miles or more of driving range.
The minicars didn't have complete smooth sailing in the U.S. when drivers started reporting their cars going up in flames and burning to the frames. The National Highway Traffic Safety Administration (NHTSA) opened a formal investigation in 2016 that led to a recall of 43,000 vehicles in May 2018.
Investigators found the catalytic converters were too close to the engine compartment insulation, causing high heat conditions to deform the insulation mats. Those mats could then touch hot exhaust components and ignite fires.
Owners of smart cars in Canada and the U.S. won't be ignored because Mercedes dealers will continue to service the vehicles, whether the gas-powered models or the electric cars sold since 2017.