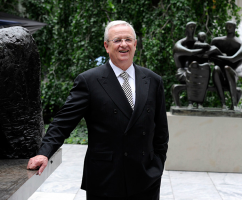 — Former Volkswagen CEO Martin Winterkorn may have escaped punishment in the U.S., but German prosecutors may be picking up where American prosecutors left off.
The U.S. Justice Department charged Mr. Winterkorn with wire fraud and conspiracy in May 2018, but as long as he stays in Germany Winterkorn is in the clear because Germany won't extradite its citizens.
Prosecutors collected information that filled 300 file folders and seven DVDs and charged Winterkorn with fraud for allegedly knowing in May 2014 that millions of VW diesel vehicles were emitting illegal levels of nitrogen oxides.
The former VW chief has always testified he only learned of the scheme when U.S. regulators announced the news in September 2015.
Winterkorn and four unnamed managers were indicted on charges of falsified certifications, tax evasion and breach of public trust. According to prosecutors, evidence shows Volkswagen executives didn't do anything to stop the emissions fraud that continued since 2006, something that could send Winterkorn to prison for 10 years.
According to the indictments, Winterkorn knew investigators and others were throwing around questions about nitrogen oxide emissions tests, but the former CEO kept his mouth shut about what he allegedly knew.
Winterkorn was also allegedly involved in a fake recall used as misdirection away from the real problems with diesel vehicles. According to prosecutors, the 2014 recall was issued to update emissions-related software even though Winterkorn knew he was blowing 23 million euros ($26 million) for absolutely nothing.
Volkswagen has paid about $33 billion in government penalties, customer buyback offers and other compensation for cheating emissions regulations on 11 million vehicles worldwide. The actions in Germany will add to the loses as prosecutors say they want bonuses paid back by those indicted, a figure that could top $12 million.
Winterkorn and the four indicted individuals shouldn't feel too alone because German prosecutors say nearly 40 people are still under investigation.