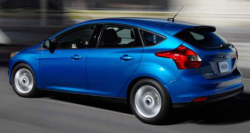 — Ford Motor Company announced their 350 millionth vehicle has rolled off an assembly line at a facility in Rayong, Thailand. According to Ford, the milestone vehicle was a Ford Focus, which according to Ford, "is the world's best-selling car for the first half of 2012."
Ford said based on statistics provided by IHS Automotive, an independent research firm, 489,616 Focus vehicles were sold during the period compared to Toyota, who sold 462,187 Corolla's. Toyota claimed the numbers were bogus and that Toyota actually sold 603,840 units of the Corolla, which would make the Corolla the best-selling vehicle.
Which claim is true? We're not sure anyone knows. What we do know is when looking at the complaint record of both vehicles on CarComplaints.com, the Ford Focus is the clear loser in that department.
From 1999 to 2012, the Focus has 2379 complaints compared to 527 complaints on the Corolla.
Sales statistics are one thing, but what Focus owners say once they own the vehicle are another matter, especially compared to the Toyota Corolla.
Here's the top five worst reported Focus problems according to the CarComplaints.com database.
The Worst Owner Reported Problems About the Focus
1. Engine Failure (model years 2001-2002)
Owners report serious issues with their engines stalling or completely going down, especially with the 2.0-liter engine.
"I just sent my 2000 Ford Focus to the junkyard, collected a pittance in return and now want to inform other Focus owners of what may lie ahead," said one Focus owner.
Many owners report a suspected dropped valve seat, with an engine replacement causing a $1500 bank withdrawal.
2. Key Won't Turn in the Ignition (model years 2000-2007)
What sounds like a minor problem has caused major headaches for owners of model years 2000 through 2007 Ford Focus owners. Countless cars have been left abandoned in parking lots after the drivers finally gave up trying to turn the key and unlock the steering wheel.
"Ignition stopped turning when I put in the key. Had to leave my car in a parking lot overnight, miss work and call a locksmith in the morning to replace for 280 bucks," fumed Ben, of Elgin, Illinois. "He said he changes the ignition for a focus an average of 5 times per week!"
3. Alternator Failure (model years 2006-2007)
Focus owners report being stranded in the oddest places believing their battery went dead. Once a new battery is purchased the car runs fine for a while just to end up dead again because the original problem was actually the alternator.
"I am amazed to read the others who have also had this issue," complained one Kentucky driver. "I thought it was the battery which I had just had replaced this week. They now tell me it is the alternator."
4. Abnormal Wear on Tires (model years 2007-2008)
Tires aren't cheap, especially when you have to continue replacing a set because of suspension or alignment problems. At least, that's according to Focus owners who say it's not the brand of tire, but the vehicle itself which causes the tires to wear out too fast.
"Do not buy this car if you plan on putting lots of miles on it!" said a Kansas Ford Focus owner. "What it costs you in tires and alignments will not make up for the fuel saved. I now have around 79,000 miles on my car, and need ANOTHER new set of tires--this will be my 4th new set, and I am considering getting into more debt to just be rid of the mess."
5. Acceleration Delay (model year 2012)
We're hearing more complaints about this problem, specifically in the 2012 model year. Owners have reported their new vehicles bucking and jerking as well as experiencing erratic acceleration.
"The problem progressively got worse through the day," said a Focus owner from Pennsylvania. "I set up an appointment to drop off for service the next day. Took in for service on 8/29 and was told that the throttle body needed to be replaced. The car had 187 miles on it."
The car was allegedly fixed the next day and the owner was told it was ready to go.
"Within a few miles the problem was back, but worse this time. The car is back in service with 220 miles on it. Now they want to keep it for at least 3-4 days. I'm totally scared to get back in this car ever again."
Ford Focus Problems Through the Years
So is the Ford Focus a bad vehicle or does more cars on the road equal more reported problems? You be the judge and let us know in the comments below.
To see a detailed breakdown of all Ford Focus complaints from 1999 through 2012, click the year: 1999; 2000, 2001, 2002, 2003, 2004, 2005, 2006, 2007, 2008, 2009, 2010, 2011, 2012.