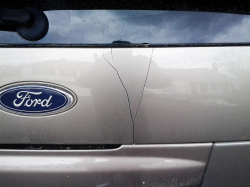 — A consolidated Ford cracked tailgate class-action lawsuit is moving forward on claims Ford sold SUVs with tailgates that are prone to crack because of defective materials.
The affected SUVs named in the cracked tailgate lawsuit are the 2002-2005 Ford Explorer, 2002-2005 Mercury Mountaineer and the 2003-2005 Lincoln Aviator. The lawsuit alleges that even though Ford sold millions of those SUVs, consumers might not have purchased the SUVs if the defect had been known.
Furthermore, the plaintiffs say they certainly wouldn't have paid a premium price for the Ford, Lincoln and Mercury vehicles if Ford would have admitted the tailgates could crack.
The class-action suit includes Ford owners in 25 states who claim Ford knew of the alleged tailgate defect in 2002 but hid the defect from consumers to save on the expense of repairing or replacing the cracked tailgates. The plaintiffs claim the tailgate material is prone to allow moisture and air behind the window panel that can cause the tailgate to crack.
Some consumers report the alleged defect is so bad it caused the back windows to shatter.
The lawsuit alleges the cracked tailgate defect existed from the time the SUVs were manufactured and based on that, any cracked tailgate should be covered under Ford's original warranty. However, a federal judge said no to that argument and dismissed the warranty claims while allowing the lawsuit to proceed based on consumer protection and deceptive trade practice claims.
The Ford cracked tailgate class-action lawsuit was filed in the U.S. District Court for the Northern District of California.
The plaintiffs are represented by Grant & Eisenhofer PA, and Frank & Bianco LLP.
CarComplaints.com has thousands of complaints about cracked tailgates in the vehicles named in the class-action lawsuit. Click a vehicle below to read what owners say about their tailgates.
2002 Ford Explorer / 2003 Ford Explorer / 2004 Ford Explorer / 2005 Ford Explorer
2002 Mercury Mountaineer / 2003 Mercury Mountaineer / 2004 Mercury Mountaineer / 2005 Mercury Mountaineer
2003 Lincoln Aviator / 2004 Lincoln Aviator / 2005 Lincoln Aviator