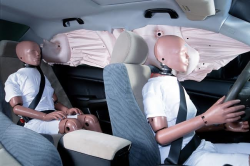 — A Honda Accord side curtain airbag class-action lawsuit has been granted final approval five years after the case was first filed. Lead plaintiffs Heather Gutierrez and Connie Kaupa filed the side airbag lawsuit in 2009 alleging the side curtain airbags in the 2003, 2004 and 2008 Accord can deploy without a crash.
According to the lawsuit, plaintiff Heather Gutierrez was driving her 2003 Honda Accord on an interstate highway when the passenger side curtain airbag deployed.
The sound and sight of the airbag unexpectedly inflating caused her to swerve the Accord to the left and she nearly collided into the highway's center barrier.
Gutierrez took the Accord to a dealership to find out why the airbag deployed, and even though the sensors showed no object hit the car, a Honda technician denied the problem was caused by a defect. Gutierrez was charged over $100 for the evaluation and told it would cost another $5,100 to repair the damages.
Those damages consisted of torn fabric on the interior roof and the front seat, not to mention the air bag dangling from the side of the Accord.
The lawsuit alleges Honda was aware the Accord side curtain airbags were defective but refused to repair the defects and didn't tell consumers about the defective airbags. The plaintiffs also claim Honda refused to reimburse owners for the cost to repair damage to the vehicles caused by the airbags, and wrongfully told owners there was nothing wrong with the side airbags.
Additionally, the lawsuit alleges Honda released misleading statements by denying the side curtain airbag system is defective.
According to the settlement agreement, Honda will pay owners of the 2003, 2004 and 2008 Accord for future repairs if the side curtain airbags deploy over the next two years. Affected Honda Accord owners who already paid for repairs will be reimbursed by Honda.
The Honda side curtain airbag class-action lawsuit was filed in the U.S. District Court for the Central District of California - Heather Gutierrez, et al. v. American Honda Motor Co. Inc.
The plaintiffs are represented by Arias Ozzello & Gignac LLP, Esensten Law, and Bisnar Chase.
Honda might have additional problems with its side airbags as the National Highway Traffic Safety Administration continues its investigation into the 2008 Honda Accord. NHTSA opened the investigation after hundreds of complaints about side airbags deploying when the doors are slammed shut.