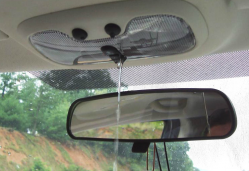 — A Chrysler / Jeep sunroof leak lawsuit alleges the drain tubes are causing serious water damage to numerous models. The leaking sunroof lawsuit names the vehicles as the the 2009-present Jeep Patriot, Jeep Liberty, Jeep Compass, Jeep Commander, Jeep Cherokee, Jeep Grand Cherokee, Chrysler Town and Country and the Chrysler 300 series.
The lawsuit says lead plaintiff, David Cox, bought a new 2010 Jeep Patriot that has continually leaked water through the sunroof. Cox claims the sunroof started leaking when the SUV had about 10,000 miles on it and ruined the radio due to water damage.
The Patriot was taken to a dealership where the radio was replaced and the sunroof drain tubes were cleaned out, all covered under warranty. However, the lawsuit alleges the sunroof continued to leak and once again caused damage to the radio as well as the electrical functions of the sunroof.
Cox returned to the dealership but allegedly was told the clogged sunroof drain tubes wouldn't be covered under warranty because it was a maintenance issue. Without the sunroof repaired, the Jeep Patriot kept leaking through the dome light and caused electrical problems and a moldy smell.
The lawsuit alleges the affected Jeep and Chrysler vehicles were originally equipped with defective leaking sunroofs that Chrysler knew were defective.
The plaintiffs claim Chrysler didn't include information to owners about any special care concerning the sunroof drain tubes. Furthermore, the lawsuit alleges Chrysler routinely declined to cover the cost of sunroof repairs and blamed the drain tube problems on owner misuse, heavy rainfall and lack of maintenance.
Cox and the other plaintiffs claim they wouldn't have paid what they did for the Jeep and Chrysler vehicles if Chrysler would have admitted the sunroofs leaked. In addition, the lawsuit alleges the resale value of the vehicles is less than it should be because the sunroof drain tubes allow water to damage the interiors and electronics of the vehicles.
The Chrysler / Jeep sunroof leak class-action lawsuit was filed in the United States District Court for the District of New Jersey - Cox et al v. Chrysler Group, LLC.
The plaintiffs are represented by Keefe Bartels, Poulos LoPiccolo PC, and Peter C. Lucas, LLC.
Read what owners complain about with the Chrysler/ Jeep vehicles named in the leaking sunroof lawsuit: