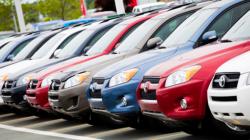 — Part of the job of the National Highway Traffic Safety Administration (NHTSA) is gathering information from automakers concerning just how "American-Made" a car really is. That's where the American Automobile Labeling Act (AALA) comes in.
Before each model-year vehicle is released, automakers must calculate the amount of U.S./Canadian equipment and parts in each passenger vehicle.
How the AALA Works
The AALA defines a passenger vehicle as a vehicle designed to carry not more than 12 persons with a gross vehicle weight rating not greater than 8,500 pounds.
This includes multipurpose passenger vehicles and light duty trucks. It does not include a motorcycle or a truck not designed primarily to carry its operator or passengers, i.e., a delivery truck. A label with the U.S./Canada content percentage must be displayed on vehicles up to the time of first retail sale.
Not-so-American, Afterall
You may think that because you're buying an American car brand, such as Ford or Chevy, you're getting the most American-made car. Hate to burst your bubble, but that's often not the case. Here's a few examples:
Not-so-American Midsize Car: Ford Fusion
The Fusion just screams red, white and blue - right? Truth is it is much less Patriotic than the Toyota Camry and Honda Accord. With just 30% of its parts coming from domestic sources, the Fusion doesn't even come close to the 70% or 75% used by it's "foreign" competitors.
If you really want an American-made midsize, consider the Dodge Avenger which narrowly edges out the Camry at 76%.
Not-so-American Large Midsize SUV: Dodge Journey
The Dodge Journey just has an American-name, doesn't it? The Journey means road trips, baseball on the radio and apple pie. But at just 31% domestic parts, it falls behind both the Toyota Venza (65%) and the Honda Pilot (70%).
The Most American-Made Car Brands (Percentage Using North American Parts)
Below is a list that was submitted to NHTSA by vehicle manufacturers concerning the percentage of U.S./Canadian content. Click on a vehicle name to read any owner reports about that vehicle or manufacturer as submitted to CarComplaints.com.
(Manufacturers are listed in alphabetical order)
Acura
BMW
Buick
Cadillac
Chevrolet
Chrysler
Dodge
Fiat
Ford
GMC
Honda
Hyundai
Infiniti
Jaguar
Jeep
Kia
Lexus
Lincoln
Land Rover
Maserati
Mazda
Mercedes-Benz
MINI
Mitsubishi
Nissan
Porsche
Rolls Royce
Rolls-Royce Coupe - 5%
Rolls-Royce Drophead Coupe - 5%
Rolls-Royce Ghost - 5%
Rolls-Royce Phantom - 5%
Rolls-Royce Wraith - 5%
Subaru
Scion
Toyota
Volkswagen
Volvo