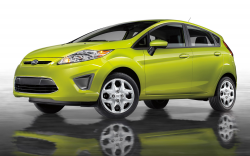 — A Ford Fiesta and Ford Focus transmission lawsuit has been filed after numerous reports of transmissions that slip, jerk, shudder and perform a host of other unwanted problems.
The class-action lawsuit was filed by plaintiffs Omar Vargas, Robert Bertone, Michelle Harris and Sharon Heberling who want the alleged transmission problems fixed in the 2011-2013 Ford Fiesta and the 2012-2013 Ford Focus.
The lawsuit alleges the $1,095 dual clutch transmission (powershift transmission) is marketed as an advanced automatic transmission offering the fuel economy of a manual transmission with the easy operation of an automatic transmission.
However, the lawsuit alleges the transmission was manufactured defective and is causing Fiesta and Focus owners nothing but headaches. Owners complain about vehicles that lurch forward, experience delayed acceleration, delayed downshifting and vehicles that have trouble stopping.
Owners of the Ford Fiesta and Ford Focus have complained to CarComplaints.com about the same problems mentioned in the transmission lawsuit.
"Huge problem that Ford knows about and continues to ignore. They replaced it with the same stock parts, meaning that this issue will come up again after the warranty. I've had problems with this car multiple times regarding the transmission and have visited the dealership over and over again due to this problem." - 2011 Ford Fiesta owner / Toronto, Canada
"First attempt of repair, shuddering in acceleration, delay in acceleration, grinding in shifting. Had 3 other attempts of the repair from continuous issues. Reported to ford for lemon law." - 2011 Ford Fiesta owner / Lemon Grove, California
"FORD has manufactured a terrible automatic transmission. Took it in today was told there is no fix. Personally, I think FORD has its dealers denying problems and not properly documenting complaints to avoid a tremendous recall. The Assistant Service manager told me that they get a tremendous amount of complaints on this, And are kept busy all the time." - 2012 Ford Focus owner / Tampa, Florida
The Ford transmission lawsuit alleges Ford knew or should have known as early as 2010 the powershift transmissions had serious problems. The plaintiffs claim the alleged defect causes premature wear to transmission clutch plates and other components, leading to early failure and costly repairs.
The Ford Fiesta / Ford Focus transmission lawsuit was filed in the U.S. District Court of the Central District of California, Western Division - Vargas et. al. vs. Ford Motor Company.
The plaintiffs are represented by Capstone Law APC.
To get an idea about the transmission problems in the Ford Focus and Ford Fiesta, choose one below.