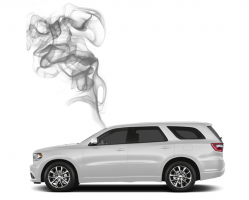 — Owners of Dodge and Jeep SUVs who thought they were safe from flames shooting from their sun visors and headliners might have felt a false sense of security. The National Highway Traffic Safety Administration (NHTSA) has opened a "recall query" to determine if a Chrysler (Fiat Chrysler) recall really did its job.
The ordeal began in 2013 when NHTSA opened an investigation into headliners catching fire in model year 2012 Jeep Grand Cherokee SUVs. Owners reported headliners catching fire and burning the roofs, along with burning sun visors that fell off and spread the fire to the passenger seats.
Federal safety regulators found enough evidence of problems that the investigation was expanded in January 2014, with the new inquiry including 593,000 model year 2011-2013 Jeep Grand Cherokee and Dodge Durango SUVs.
Finally in July 2014, Chrysler recalled 895,000 model year 2011-2014 Dodge Durangos and Jeep Grand Cherokees after determining the wiring in the vanity lights could cause fires.
The defect was traced to three screws that mount the sun visor to the roof of the SUV. Investigators said it was possible the sun visor wiring could be damaged by the screws and cause an electrical short.
Chrysler said it could fix the fire danger by installing plastic guides on the sun visor that routed the wiring away from the screws. That sounded like a good idea until NHTSA kept receiving complaints about smoke and flames shooting from the headliners. Those new incidents occurred after the SUVs had the recall repairs performed.
The government will now have to decide why Chrysler apparently failed in its bid to repair the SUVs and if all affected Jeep Grand Cherokees and Dodge Durangos need to be recalled once again.
Click on a year to read complaints about that specific model year Dodge Durango or Jeep Grand Cherokee: