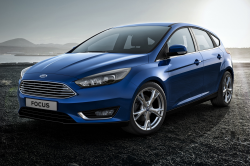 — Ford has door latch problems, to the tune of 2.3 million vehicles recalled to fix door latches that can prevent the doors from closing.
The recalled vehicles include the following:
2013-2015 Ford C-MAX
2013-2015 Ford Escape
2012-2015 Ford Focus
2015 Ford Mustang
2015 Lincoln MKC
2014-2016 Ford Transit Connect
Ford says the pawl spring tab can break inside the side door latch, causing failure of the door to close properly. Although the problem will typically prevent the door from latching in the first place, the automaker says a door that is able to close could unintentionally open while the vehicle is moving.
The National Highway Traffic Safety Administration (NHTSA) asked Ford to recall the vehicles and the automaker obliged, after an August recall of 830,000 of the same vehicles.
The automaker says it discovered one accident and three injuries allegedly related to the door latch problems. When the first recall was announced last month, Ford said it knew of only one injury at that time.
One alleged injury was to an occupant's arm from a door that opened and bounced back. Another injury involved a driver who said her hand was injured when trying to grab a door that opened. The third injury was to an occupant who allegedly received scratches from a rear door that opened while driving.
It's likely NHTSA asked Ford to expand the recall because all affected vehicles weren't included in the August recall. That recall was for only certain areas of the country which Ford said had higher ambient temperatures. Vehicles outside those specific areas weren't included in the recall, but Ford said they could be included in a "customer satisfaction program."
Federal safety regulators apparently didn't like that idea, hence the request to officially expand the recall to all areas.
Ford says the total number of recalled vehicles in the U.S. is 2,046,297, with another 233,034 in Canada and 61,363 in Mexico.
The automaker says available parts are limited so each owner will be sent an interim notification beginning October 3, 2016, and will receive a second notice when parts are available.
Owners may contact Ford at 866-436-7332 and give them recall number 16S30.
Read complaints sent to CarComplaints.com about the recalled Ford and Lincoln vehicles: