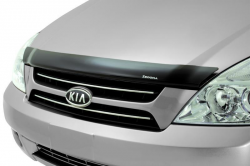 — About 220,000 Kia Sedona minivans are recalled because the hoods could open while driving. Kia says the 2006-2014 Sedonas have issues with the secondary hood latches that are supposed to keep the hoods locked if the primary latches fail.
If the primary latch fails or is accidentally released without the secondary latch engaged, the windshield will be filled with sights of the hood and not the highway.
Based on reports made to the National Highway Traffic Safety Administration (NHTSA), Sedona hoods can and do fly open, and in the case of a New York owner, the entire hood flew off the minivan.
"While driving at approximately 50 mph, the front hood unlatched and fell from of the vehicle. The vehicle was towed to an authorized dealer where the contact was informed that she must have left the hood open in order for the failure to occur. The hood was replaced by the dealer." - 2006 Kia Sedona owner / Amsterdam, New York
Another New York Sedona owner told NHTSA a little money back would be nice.
"Consumer requests reimbursement for damages stating while driving the hood flew up blinding the driver's view. The hood latch was replaced." - 2008 Kia Sedona owner / Clay, New York
The recalled 2006-2014 Kia Sedona minivans were produced from June 15, 2005, to April 4, 2014.
Kia will replace the secondary hood latches in Sedonas originally sold or currently registered in these states:
Alaska, Connecticut, Delaware, Illinois, Indiana, Iowa, Kansas, Kentucky, Maine, Maryland, Massachusetts, Michigan, Minnesota, Missouri, Nebraska, New Hampshire, New Jersey, New York, North Dakota, Ohio, Pennsylvania, Rhode Island, South Dakota, Utah, Vermont, West Virginia, Wisconsin and the District of Columbia.
The secondary latches that were not originally sold or not currently registered in one of the above states will be inspected, and only replaced if necessary.
The dealership will clean and lubricate the secondary latch if the dealer doesn't believe the latch needs to be replaced. The new latch will be enhanced with a material to inhibit corrosion and Kia says it will reimburse Sedona owners who have already paid to have the latches repaired.
The Kia Sedona hood latch recall is expected to begin on July 25, 2016.
If you own a 2006-2014 Kia Sedona and have questions, call the automaker at 800-333-4542 and use recall number SC134.
CarComplaints.com has complaints about the model year Kia Sedona minivans mentioned in the hood latch recall: