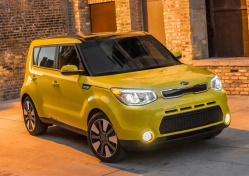 — For the third time, Kia is recalling Soul and Soul EV cars for problems that cause a loss of steering control.
Recalled are more than 342,000 model year 2014-2016 Kia Soul and Soul EV cars with pinion plugs that can allow the pinion gears to separate from the steering gear assemblies. That's king-size trouble for a driver because all steering control will be lost while traveling at any speed.
Once the problem hits, a driver will hear a clunking noise from the steering rack when the steering wheel is turned.
Kia says this latest recall is to make sure the cars received proper repairs during the previous recalls. Kia believed it had this problem fixed in July 2014 when more than 51,000 Souls were recalled to fix the pinion plug problems.
At the time, Kia blamed a supplier for mistakes when using a thread-locking adhesive during assembly. Kia told dealers to replace the pinion plugs with new pinion plugs with the correct adhesive.
However, a second recall was issued in November 2015 for the same problem, but this one increased the number to 256,000 model year 2014-2016 Kia Soul and Soul EV cars. To finally try to fix the problem, Kia told dealers to replace the pinion plugs that secure the pinion gears and install bolts for additional reinforcement.
The 342,381 cars included in this third recall were built July 21, 2013, through September 30, 2015.
Kia dealers will inspect the pinion plugs to ensure any previous recall repairs were properly completed. If technicians see problems, they will use improved methods to redo the recall repairs or the steering gear assemblies will be completely replaced.
Kia says it will reimburse owners who have paid their own money to pay repair expenses related to the pinion problems.
The Kia Soul and Soul EV recall will begin November 16, 2017, but owners who have questions may call 800-333-4542.
CarComplaints.com has owner-reported complaints about the 2014 Kia Soul, 2015 Soul, 2016 Soul and the Kia Soul EV.