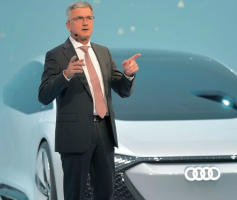 — The CEO of Audi has been arrested in Germany as part of an ongoing probe into an emissions scheme that was first exposed in 2015.
The arrest of Rupert Stadler comes at the same time Germany fined Volkswagen $1.2 billion on charges of defrauding consumers and the government.
German officials searched Stadler's home but didn't release information about what may have been found. However, Audi may be expecting Stadler to return to the automaker as the company named an interim CEO, not a replacement, to sit behind the desk in Stadler's absence.
Prosecutors have concerns that Stadler, who has worked for Volkswagen since 1990, has access to witnesses who may have insider knowledge about the emissions cheating.
Germany also charged Stadler with collusion for his alleged role in equipping Audi vehicles with emissions "defeat devices" that allowed the automaker to cheat emissions tests for years.
Stadler, 55, is one of at least 20 former and current Audi personnel under investigation for fraud, but to date he is the highest ranking executive targeted by German prosecutors.
Former Volkswagen CEO Martin Winterkorn has been indicted by U.S. prosecutors but has escaped the same fate in Germany. The U.S. alleges Winterkorn committed conspiracy and wire fraud, but he'll likely never see the inside of a U.S. courtroom because Germany won't extradite its citizens.
Audi was first named as part of the scandal in November 2015 when the U.S. Environmental Protection Agency sent notices to both Audi and Porsche for violations of the Clean Air Act.
Jump to January 2018 and Audi was still answering for its sins when German regulators announced "unacceptable shut-off devices" were found in 127,000 vehicles. Germany said all the vehicles were built after the automaker was caught cheating.