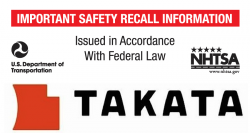 — Twelve automakers have been asked by the government to increase the pace of recalls to replace deadly Takata airbag inflators.
National Highway Traffic Safety Administration (NHTSA) Deputy Administrator Heidi King sent letters to the 12 automakers about failures to meet a December 2017 deadline to replace the dangerous inflators.
The letters were sent to BMW, Daimler Vans, Daimler Trucks, Fiat Chrysler, Ford, General Motors, Honda, Mazda, Mitsubishi, Nissan, Subaru and Toyota.
King says she wants to meet with all 12 automakers to discuss plans to increase the pace of recall repairs. NHTSA says more than 7 million inflators that should have been replaced by the end of 2017 still remain on the roads. King says she is "deeply concerned" about the number of vehicles that haven't been repaired.
At least 22 deaths and 300 injuries have occurred worldwide due to the inflators, with at least 15 of those fatalities in the U.S., most in Honda vehicles.
Because it's been hit hardest by Takata's failures, Honda has made hundreds of thousands of house calls to knock on doors of affected owners to convince them to repair the vehicles.
Automakers and NHTSA are tired of begging owners to get their vehicles repaired, at least for owners who know about the recalled vehicles. In some situations, automakers try to connect the dots to find vehicles that have went through multiple owners, a sometimes difficult job with older models.
Some of those vehicles still not repaired include 2006 Ford Ranger and Mazda B-Series trucks equipped with inflators deemed so dangerous that NHTSA and the automakers have released "do-not-drive" warnings.
Ford says 49 percent of about 33,000 Rangers have been repaired and 58 percent of 2,205 Mazda trucks are good to go, but that leaves thousands of grenades on the roads.
NHTSA says a recalled truck should be parked until the automaker can tow the vehicle for repairs, as two Ford Ranger drivers have already been killed by exploding inflators.
By the end of 2018, about 70 million Takata inflators will have been recalled in the U.S.