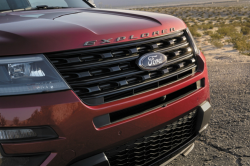 — A Ford Explorer carbon monoxide recall is the only way to ensure exhaust fume leaks are permanently fixed in about 1.3 million SUVs in the U.S., according to a letter sent to Ford from the Center for Auto Safety (CAS).
CAS claims carbon monoxide complaints have increased 900 percent since NHTSA opened its investigation in July 2016, and the Center says that doesn't count more than 2,000 complaints Ford received from customers.
Ford announced a "complimentary service" program in October 2017 for about 1.4 million model year 2011-2017 Explorers in the U.S., Canada and Mexico, with about 1.3 million of those SUVs on American roads.
The non-recall "program" continues until December 31, 2018, with dealers sealing the rear of the SUVs, reprogramming the air conditioners and replacing liftgate drain valves.
CAS says Ford should take the extra and necessary steps by ordering an official recall to replace cracked exhaust manifolds that allow carbon monoxide to enter the cabins. The manifolds are a target for federal investigators who have found evidence of cracks allowing exhaust fumes and carbon monoxide into the SUVs.
Ford has sent multiple technical service bulletins (TSBs) to dealerships since 2012 related to exhaust fumes, but CAS says it has heard from owners who allegedly had their SUVs repaired but continued to suffer from exhaust fumes.
One bulletin (12-124) said some "2011-2013 Explorer vehicles may exhibit an exhaust odor in the vehicle with the auxiliary climate control system on. Customers may indicate the odor smells like sulfur."
Another TSB (14-0130) told dealers about similar exhaust problems in 2014-2015 Explorers.
Explorer owners describe symptoms of carbon monoxide poisoning, including headaches, dizziness and flu-like symptoms. One 2015 Explorer owner says repeated trips to a Ford dealership did nothing to fix the problem, including an attempted repair in 2017.
The owner says the carbon monoxide detector registered high levels after the repair, while another customer reported their 18-month-old was in the rear of the 2014 Ford Explorer when the child became unresponsive, causing the driver to call 911.
Once out of the emergency room and back in the SUV, the child stopped responding again until the windows were rolled down, and a Ford dealership allegedly did nothing about the problem.
In addition to complaints filed with the automaker, NHTSA, CarComplaints.com and others, Ford Explorer owners have taken additional steps by creating their own websites to tell stories of their exhausting experience.
In its letter to Ford, the Center for Auto Safety says although no deaths have been reported due to the exhaust odors, it is "possible that Ford and Ford's customers have just been lucky up until this point, but the time for Ford to take more serious action is now, before that luck runs out."
Read what owners tell CarComplaints.com about the Ford Explorer exhaust systems: