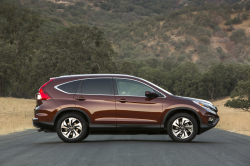 — A Honda CR-V vibration lawsuit may soon be settled as the automaker has agreed to resolve claims about model year 2015 SUVs.
According to the lawsuit, the 2015 CR-V was plagued by vibration issues from the beginning, causing customers to complain about different levels of vibrations.
Not all 2015 CR-V customers complained about the issue, while others complained about vibrations while idling, or while accelerating or while driving highway speeds. The problem was so bad that many CR-V customers said the vibrations were making them sick and causing back pain.
Dealers sometimes told customers the vibrations were normal and the SUVs just needed to be "broken in" because they were new.
However, Honda issued a technical service bulletin (TSB) to dealerships about vibration complaints in August 2015, but only for complaints related to vibrations at high speeds. In November 2015 was when comprehensive technical service bulletin 15-046 was issued to fix all vibration problems.
The lawsuit admits the repair bulletin issued to dealers in 2015 seems to fix the vibration problems, but Honda allegedly didn't do enough to let all customers know about the TSB.
According to the consolidated class-action lawsuit, the plaintiffs wanted Honda to pay damages and restitution, but based on the settlement agreement, owners won't receive "damages" or "restitution" or payments.
Instead, by agreeing to settle the lawsuit, Honda only agreed to start a "consumer outreach program" to let customers know about the 2015 technical service bulletin.
Technical service bulletin 15-046 breaks down the repairs based on "modes:"
Mode 1: Vibrations may be present when stopped with vehicle in gear.
Mode 2: Vibrations may be present during low-speed driving between 1,000–1,200 rpm.
Mode 3: Vibrations may be present when driving around 40-50 mph between 1,800–2,200 rpm.
Honda dealers base their choice of repairs on which vibration mode is present.
Mode 1: Honda dealers will install new radiator lower cushions, new transmission mounts and new front head restraints.
Mode 2: Dealers will install tailgate damper kits on the CR-Vs and update the powertrain control module (PCM) software.
Mode 3: Honda dealers will update the PCM software only.
For CR-V owners or lessees who experience mode 1 vibrations, the repairs are covered under Honda's powertrain warranty. For vibration problems associated with modes 2 and 3, repairs are covered by the emissions control systems defects warranty which lasts 8 years or 80,000 miles.
As part of the outreach program, Honda will be posting information about the available CR-V repairs on its website, sending reminders to dealers and contacting owners or lessees who complained but never had the repairs performed.
The 2015 Honda CR-V multidistrict litigation combines 10 lawsuits:
Matiscik v. American Honda Motor Co., Inc.
Ward v. America Honda Motor Co., Inc.
Cushing v. American Honda Motor Co., Inc.
Flanigan v. American Honda Motor Co., Inc.
Vazquez v. American Honda Motor Co., Inc.
Greenstone v. American Honda Motor Co.
Kogan v. American Honda Motor Co., Inc.
Bertram v. American Honda Motor Co., Inc.
A Honda owner or lessee who is unhappy with the repairs may still sue the automaker or enter a dispute resolution process according to the rules set forth in the warranty booklet.
A final fairness hearing for the settlement is scheduled for November 6, 2018.
The 2015 Honda CR-V vibration lawsuit was filed in the U.S. District Court for the Southern District of Ohio - In re: American Honda Motor Co., Inc., CR-V Vibration Marketing and Sales Practices Litigation.
CarComplaints.com has owner-reported complaints about vibration issues in 2015 Honda CR-Vs.