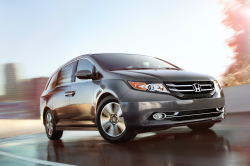 — Honda is recalling nearly 255,000 Odyssey minivans in the U.S. to repair second-row seatbacks that may fail to lock into place securely.
The 2014-2016 Odyssey outboard second-row seats have levers used to fold the seatbacks and slide the seats forward to allow occupants into the third-row seats.
Honda says the seatback can stay unlocked or unlock without warning if the release lever is used to fold a reclined left outboard seatback forward.
It's at least the third recall the automaker has issued for the same seatback problems in Odyssey minivans. Honda recalled nearly 634,000 Odyssey minivans in December 2016 to fix the seats that wouldn't stay put, then in 2017 the automaker recalled 800,000 minivans after at least 46 people suffered injuries.
Honda says it has received 354 warranty claims about the seats, but the first claims started rolling in between February and December 2015 when owners complained about seatbacks that wouldn't lock into place. However, engineers couldn't determine what was causing the problem, so Honda continued to monitor the field.
Engineers tried replicating the problems but had difficulty because the returned parts were damaged, but in November 2016 Honda was able to reproduce the problem by using undamaged parts provided by the supplier.
It was determined seatback recliner failures were caused by the pawls in the seat recliner discs separating from the guide plates, preventing the seatbacks from locking.
Honda also found that cam rotation angle increases when using the walk-in lever compared to the recliner lever. Then the supplier confirmed a manufacturing error deformed the left side recliner lever stopper tab.
Engineers further discovered the guide plate that secures the pawl in the seat recliner disc may have embossment heights above specifications due to variations in manufacturing stamping. The variation in the guide plate's inner embossments can increase the gap in the seat recliner disc, contributing to pawl separation from the guide plate.
Finally, Honda confirmed two conditions must exist for the pawl to separate from the guide plate. First, there must be an increased cam rotation angle from walk-in lever usage and a deformed left side recliner lever stopper tab. Second, there is an increased gap in the seat recliner disc from the guide plate's inner embossment height.
Although the automaker has received at least 354 warranty claims, Honda says there have been no reports of crashes or injuries related to the seatbacks.
The recall is expected to begin April 30, 2018. Honda dealers will confirm the second-row left outboard seatbacks work correctly and install support brackets to the seat recliners. However, dealers will replace the seatback frame assemblies if the seatbacks cannot lock.
Owners of 2014-2016 Odyssey minivans may contact Honda at 888-234-2138 and use recall number X0R.
CarComplaints.com has complaints about the Honda Odyssey minivans:
Honda Odyssey - 2014 / 2015 / 2016 / All model years