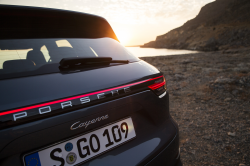 — Porsche will pay tens of millions of dollars to shareholders after a German court ruled in favor of investors who sued the automaker for withholding information about the emissions systems of diesel vehicles.
Porsche has 52 percent of Volkswagen's voting rights and found itself the target of shareholder anger over the emissions scandal that has cost VW more than $30 billion.
Investors accused Porsche of waiting too long to disclose how the automaker was manufacturing and selling diesel vehicles equipped with illegal emissions devices.
According to the lawsuits, Porsche management knew the vehicles couldn't pass emissions testing without cheating and knew it prior to 2015 when news of the scandal was made public.
The $54 million Stuttgart court ruling includes two investor lawsuits, but both complaints alleged the same failures to disclose information that cost shareholders money.
The judge ruled shareholders should be compensated for stock bought from May 23, 2014, and September 22, 2015. Porsche shareholders filed suit for violations of the Securities Trading Act that requires a company to disclose inside information that can damage investors.
In response to the ruling, Porsche says that despite the court's ruling, arguments set forth by shareholders are without merit and the alleged claims don't exist.
The automaker says it will appeal the verdict because the court should have used its full chamber to make its ruling instead of the one judge who brought down the verdict.
Porsche also argues higher courts have set precedent concerning cases that should be put on hold while similar cases are ongoing as is the situation with the investor lawsuits.
It's another punch to the gut of Volkswagen following recent losses caused by hiding illegal emissions software in millions of diesel vehicles. In the past two months Volkswagen lost a separate shareholder lawsuit for $48 million and Audi was fined nearly $1 billion by German prosecutors.
As for Porsche, no more diesel vehicles will be manufactured as the automaker turns to hybrid and electric technology.