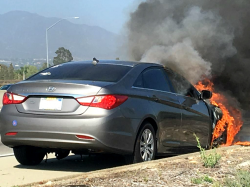 — More than 1,300 Hyundai Sonata and Santa Fe non-crash fires have convinced the National Highway Traffic Safety Administration (NHTSA) to open a formal investigation into fires caused by Theta II engines and other components.
The Center for Auto Safety petitioned NHTSA to investigate non-crash fires in certain Hyundai and Kia vehicles, something safety regulators agreed to do with specific models.
The affected Hyundai models include nearly 1.3 million 2011-2014 Hyundai Sonatas and Sante Fes that show evidence of more non-crash fires than similar models from other automakers.
For it's part, Kia has to answer to the government about what caused nearly 1,800 Optima, Sorento and Soul fires.
It's not the first move made by the government concerning Hyundai fires as the agency opened a separate investigation in May 2017 after Hyundai and Kia recalled 1.7 million vehicles.
The agency said it would "investigate both the timeliness and scope of Hyundai's Theta II engine recalls, and Hyundai's compliance with reporting requirements." However, nothing at the time involved reports of non-collision fires.
That position changed in July 2018 when NHTSA added the fire reports to the ongoing investigation.
Hyundai and Kia described similar but different problems as the source of Theta II engine stalls and failures. Hyundai told NHTSA metallic debris invaded the engine oil and damaged the connecting rods.
Kia told safety regulators more than 618,000 Optima, Sorento and Sportage vehicles had Theta II engines that could seize from worn out bearings.
While recalls, lawsuits and previous defect probes have zeroed in on fires caused by Theta II engines, NHTSA says Hyundai customers also complain their vehicles burned because of tail light housings, tail light wire harnesses and light bulbs.
In addition to non-collision fires, the automaker says 26 injuries have been reported related to vehicle fires, but no fatalities have been recorded.
The government emphasizes Theta II engines are a big part of the investigation, but various Hyundai systems and components will also be checked for evidence of what the automaker calls "thermal events."
CarComplaints.com will update our website with results of the Hyundai fire investigation.