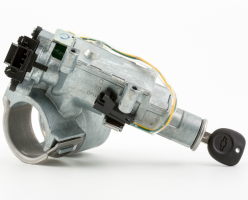 — General Motors and owners who sued for defective ignition switches have been asked by a federal judge to consider settling the complaints before the lawsuits reach the trial stage.
General Motors has already paid more than $2.5 billion for selling vehicles with defective ignition switches that switched off while the vehicles were in motion. With a bump of the knees to the keys, the ignition switches moved out of the "run" positions and left drivers without power steering, power brakes and in some cases without the airbags.
While executives for Volkswagen have been indicted and some jailed for violating the federal Clean Air Act by cheating on emissions tests, no GM management personnel were charged in the deaths and injuries of hundreds of people.
Based on data from GM's compensation fund created for victims, at least 124 people were killed and 275 were injured during the 10 years the automaker denied the dangers.
Thousands of lawsuit were consolidated in New York seeking damages based on vehicle values and how the ignition switch scandal affected those values.
But U.S. District Court Judge Jesse Furman says a planned January 2020 trial is on hold, something that should encourage all the parties to consider settling the cases.
According to the judge, GM owners will have trouble proving damages based on repair costs because GM may cover the bills, leaving customers paying nothing.
Judge Furman says that scenerio leaves claims of economic losses an empty argument even though owners claim their resale values were harmed by the automaker's ignition switch failures.
With customers unable to show the fair market price of their vehicles, the judge ruled a jury could never agree on an amount for damages.
According to GM, the culture that caused a 10 year delay in recalling the vehicles has been erased and replaced with a culture that teaches employees to "speak up" when they see possible problems.
GM's previous office atmosphere was known for staying quiet about potential problems, even going so far as telling employees not to use certain safety-related words.
The automaker may have improved its safety culture, but a recent Camaro recall questions just how much has been improved. Just days ago GM recalled 2010-2015 Chevrolet Camaros because the ignition switches may turn off due to defective keys.
According to GM, the keys had been recalled yet dealers continued selling them since 2014.