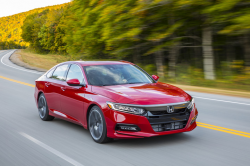 — A Honda fuel pump recall has been issued for more than 708,000 vehicles because the impellers in the pumps may be defective.
The Acura and Honda fuel pumps may cause stalled engines or leave drivers with vehicles that refuse to start.
Honda Fuel Pump Recall
2019-2020 Honda Accord
2019 Honda Accord Hybrid
2019 Honda Civic Coupe and Si Coupe
2019-2020 Honda Civic Hatchback
2019 Honda Civic Sedan and Si Sedan
2019 Honda Civic Type R
2018-2019 Honda CR-V
2019 Honda Fit
2019 Honda HR-V
2019-2020 Honda Insight
2019 Honda Odyssey
2019 Honda Passport
2019 Honda Pilot
2019 Honda Ridgeline
Acura Fuel Pump Recall
2019 Acura ILX
2019-2020 Acura MDX
2019-2020 Acura MDX Hybrid
2019-2020 Acura RDX
2019-2020 Acura TLX
In June 2020 the automaker recalled about 1.4 million vehicles worldwide for the same fuel pump issues.
The 2020 fuel pump recall was ordered after manufacturer DENSO recalled more than 2 million of the pumps which were installed in vehicles from multiple automakers. DENSO said impellers in the fuel pumps could absorb fuel and deform, allowing the impellers to hit and damage the pumps.
As of March 19, 2021, Honda has received 583 warranty claims and 166 field reports related to the fuel pumps. But no crash or injury reports have been received.
The U.S. Honda recall includes 628,124 vehicles and in Canada more than 80,000 Acura and Honda vehicles are recalled.
In recall documents filed with the government, Honda says owners may be eligible for reimbursement if money was spent for fuel pump repairs.
Acura and Honda owners should watch for fuel pump recall notices at the end of May 2021.
Acura and Honda dealerships will replace the fuel pumps, but concerned customers with questions should call 888-234-2138.
Check out class action lawsuits filed against Honda over the fuel pumps: