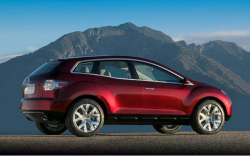 — Mazda is recalling more than 190,000 model year 2007-2012 Mazda CX-7 cars to protect them from water entering the front suspension ball joint fittings.
Mazda says salted roads during the winter can can cause saltwater to enter the ball joint and corrode the parts. The corrosion can cause the ball joint in the fitting to loosen and result in a rattle from the area of the ball joint and lower control arm. Enough corrosion and the ball joint can separate from the lower control arm.
A separated ball joint will cause steering problems, including the possibility of a complete loss of steering.
The recalled 2007-2012 Mazda CX-7 cars were built February 14, 2006, through May 9, 2012.
Mazda says replacement parts are not available and the automaker doesn't know when dealers will be ready to begin repairs. Interim notifications will be sent to CX-7 owners around October 10, 2016.
A second notice will be mailed once parts are available, with priority repairs to be made on cars currently registered in the following states:
Connecticut, Delaware, Illinois, Indiana, Iowa, Kentucky, Maine, Maryland, Massachusetts, Michigan, Minnesota, Missouri, New Hampshire, New Jersey, New York, Ohio, Pennsylvania, Rhode Island, Vermont, Virginia, West Virginia, Wisconsin and the District of Columbia.
The second phase of the recall will see repairs made to the CX-7 cars in all other U.S. areas.
Mazda CX-7 owners with questions may contact the automaker at 800-222-5500 and use recall number 9716H.
CarComplaints.com has owner-reported complaints about Mazda CX-7 cars: