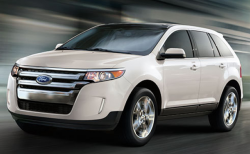 — A Ford Edge "door ajar light" recall won't happen after federal safety regulators closed their investigation after determining 2,000 complaints about door ajar lights aren't enough to justify a recall.
The National Highway Traffic Safety Administration (NHTSA) says "an unreasonable risk to motor vehicle safety has not been identified" even with all the Ford Edge complaints, and no recall is necessary.
NHTSA opened the door ajar light investigation after complaints kept pouring in about 2011-2013 Ford Edge SUVs that suffered from warning lights that stayed on even when all the doors were properly closed and latched.
Ford Edge owners also say the interior dome lights can stay on and drain batteries, and the doors cannot be locked as long as the door ajar lights are illuminated. In addition, owners of the 2011, 2012 and 2013 Edge say they are tired of the huge expense to repair the SUVs, something Ford should pay for by ordering a recall.
"As if my driver door wasn't enough, now my passenger door light won't shut off. So, now I absolutely can't lock my doors and another light draining my battery. It is way to costly to get fixed and with over 100K miles, no warranty coverage. I just don't understand why this problem hasn't been recalled. Can't wait to get rid of this car." - 2011 Ford Edge owner
"Door ajar light will not turn off. Ford told me it would cost 450.00 dollars to fix. I have an extended warranty but it was not covered. Then they hit me with a 110 dollar diagnostic fee." - 2012 Ford Edge owner
"The problem with my door ajar light coming on was horrible!!! It took me 3-10 times closing my door EVERY time I closed it to turn the light off. It would keep telling me to put my car in park and close door when it was already closed. Brought vehicle to local Ford dealer and the cost was over $400 to fix!!!" - 2013 Ford Edge owner
The door ajar problem started with the 2011 Ford Edge because the automaker changed the workings of the body control module that caused a 75 percent loss of current sent out to clean the switch contacts, switches located within each door latch that tells the vehicle if the door is open or closed.
According to Ford, the body control module monitors the position of the switch and continuously samples it to detect any changes. Once a door is closed, a continuous current designed to keep the electrical contacts clean is sent from the body control module to the switches.
However, the automaker says this current is too low to keep the switch contacts clean, allowing contamination to build up and the door ajar lights to activate.
Out of 2,000 complaints, no accidents have been reported and only one injury occurred after the driver kept slamming the door to get the door ajar light to turn off.
NHTSA says 14 complaints indicate doors opened while driving, most of those caused by children opening doors because they weren't locked. Two other complaints involve doors that opened because they weren't latched as the drivers thought they were.
NHTSA says no recall is needed because there isn't a risk to safety and even with the door ajar lights activated, the door latches typically continue to work properly and the child safety locks on the rear doors continue to function properly.
Safety regulators also say crashworthiness is not affected and all safety systems continue to function normally even if the body control module believes a door is open.
The government says it will continue to monitor the door ajar light problems and take action if warranted, but if the agency won't ask for a recall after 2,000 complaints, don't hold your breath.
Have a complaint about your Ford Edge? Add your complaint here, about any vehicle.
CarComplaints.com has door ajar light complaints submitted by owners of the 2011 Ford Edge, 2012 Ford Edge and 2013 Ford Edge.