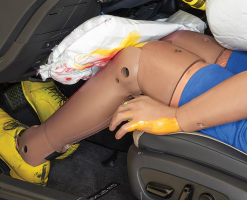 — Researchers are beginning to answer two important auto safety questions: Are knee airbags necessary? And do they work?
The auto industry has been lacking evidence to accurately answer those questions because the majority of research focuses on other types of airbags, primarily frontal airbags.
Engineers at automakers can sometimes make the same assumptions as anyone else concerning airbags, believing if a vehicle is equipped with six airbags, adding more airbags will make the vehicle even safer.
But now investigators at the Insurance Institute for Highway Safety (IIHS) are beginning to look at the data to determine if knee airbags provide only a false sense of security.
An automaker equips a vehicle with knee airbags to allegedly reduce leg injuries and decrease forces on the chest and stomach by helping to stabilize lower body movement in a crash.
The airbags, which typically deploy from the lower dashboard, are also installed to help vehicles pass federal crash tests using crash test dummies which aren't wearing seat belts.
IIHS researchers note their study looked at crashes that involved only the use of seat belts, so results of the study don't provide answers concerning occupants who aren't wearing seat belts.
Results of the knee airbag study aren't encouraging for automakers or consumers because researchers determined the airbags barely helped, and in some cases the airbags increased the risk of being injured.
The Institute analyzed real-world crash reports as well as data from crash tests. Data from real-world crashes were collected from 14 states, and researchers used injury measures from more than 400 frontal crash tests conducted by IIHS.
Investigators determined knee airbags were associated with an increased risk of suffering lower leg and right femur injuries in the small overlap crash test. The test mimics what happens when the front driver-side corner of a vehicle hits another vehicle or object.
However, researchers did find a slight reduction in the risk of suffering head injuries.
In the moderate overlap crash test, the knee airbags had no effect on injury measurements.
And results from knee airbag data collected from real-world crashes weren't much better because the risk of overall injury dropped only half a percentage point, from 7.9% to 7.4%.
In addition to the possibility of suffering injuries when the knee airbags deploy, such as this 2007 Dodge Grand Caravan driver, knee airbags can also be the cause of safety recalls, as seen below.