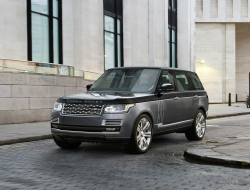 — Two Land Rover door latch recalls issued in June 2019 are enough to convince the National Highway Traffic Safety Administration (NHTSA) to close a Range Rover investigation originally opened in 2017.
The investigation was then upgraded in 2018 as safety regulators tried to determine why the doors were opening while driving the 2013-2016 Range Rovers and Range Rover Sports.
Land Rover recalled Range Rovers in 2015 because the door latches were allowing the doors to open with the vehicles in motion. However, owners kept complaining about the latches, causing NHTSA to open an investigation in 2017.
Land Rover told NHTSA that defects in the control logic of the keyless latching system release motors allegedly were causing the door to unintentionally open. A recall to update the keyless latching systems was issued, but the problems continued for Range Rover owners.
Engineers finally determined the unilatch keyless vehicle entry systems could suffer from moisture intrusion that caused corrosion to the keyless system motor bearings. This is what caused the levers from returning to the "home" positions and prevented the latch pawls from engaging the latch claws.
NHTSA analyzed customer complaints and found 161 door latch failures, with 51 failures involving doors that opened while driving.
The latest door latch recall involves dealerships disabling the keyless vehicle entry function, and on certain Range Rovers the left latch assemblies will be replaced with new assemblies with the correct specifications.
According to NHTSA, the investigation is closed based on Land Rover's recall of the Range Rovers and Range Rover Sports.
CarComplaints.com has complaints about Land Rover vehicles.