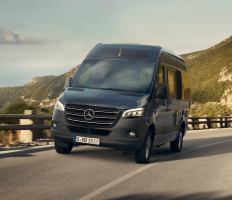 — Daimler is recalling 2018-2019 Mercedes-Benz and Freightliner Sprinter vans because the airbag systems may not have been turned on after the vehicles were manufactured.
In the U.S., about 1,230 vans are recalled and another 28 are recalled in Canada.
The U.S. recall is expected to begin November 18, 2019, when dealership technicians will inspect the airbag systems and make sure they are active and working.
Sprinter van owners may call 877-762-8267 and ask about recall number VS3AIRIGEL.
Sprinter van customers in Canada can reach the automaker at 800-387-0100.
Read about Daimler Sprinter recalls announced since 2018.