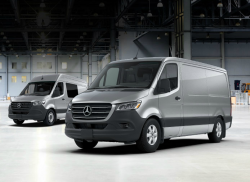 — Another Mercedes-Benz Sprinter and Freightliner Sprinter van recall has been issued, this time for 2018-2019 Sprinters with hoods that can fly open and block the ability to see through the windshields.
More than 52,000 Sprinter vans have screw connections on the upper hoods that may not have been tightened correctly, leaving the hoods capable of opening with the vehicles in motion.
Daimler says the screw connection in the hood is tightened with an EC screw driver which documents torque values that are monitored during production to confirm everything is tightened to specifications.
The automaker says an additional manual verification is performed to ensure the torque is within specification. But Daimler learned of complaints related to the hoods and found the results of the manual checks were not documented properly.
Procedures were upgraded during production to perform a secondary manual confirmation of the hood screw torque values. Daimler also confirmed the two vans which people complained about never had proper documents concerning manual checks of the screws.
In addition, the automaker found both vans had their hoods reworked before leaving the assembly plant, something that suggests the problems were isolated events.
Although Daimler doesn't know of any crashes or injuries, it was decided to play it safe and recall the vans.
The Sprinter recall is expected to begin November 1, 2019, when dealerships will tighten the hood screws.
Mercedes-Benz and Freightliner customers with questions should call 877-762-8267 and ask about recall number VS3HAUBOSS.
Sprinter van customers are likely tired of receiving recall notices based on actions taken since 2018.