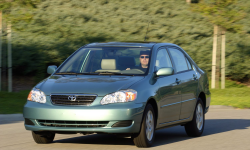 — A Toyota Corolla and Matrix recall has been issued for about 274,000 cars in the U.S. and Canada because the front passenger airbags may not inflate properly.
The 2003-2008 Corolla, 2005-2008 Matrix and 2005-2008 Pontiac Vibe cars are equipped with Takata airbags, but the defect isn't related to exploding Takata airbags that caused the recalls of millions of vehicles.
Toyota says there is a possibility the airbag may not unfold as designed during inflation under high temperatures, resulting in pressure rising differently than expected in the airbag.
This can cause a portion of the airbag material to tear apart during deployment, or the airbag plate (which mounts the airbag to the assembly case) could be damaged.
This may leave an occupant unprotected in a crash because the airbag fails to inflate and deploy properly.
Dealerships will replace the front passenger airbag assemblies once owners are contacted by the end of October 2019.
About 219,000 cars are recalled in the U.S. and nearly 55,400 are recalled in Canada.
Toyota will notify their owners and Pontiac Vibe owners will be notified by General Motors. Dealers will replace the front passenger airbag assemblies when the U.S. recall begins September 25, 2019.
Toyota owners may call 888-270-9371 and refer to recall numbers K1Q and K0Q, and Pontiac owners may contact GM at 800-762-2737. GM's number for this recall is N192273760.
Affected owners in Canada may call 888-869-6828.