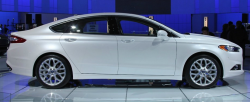 — Ford Motor Co. received good news when the Insurance Institute for Highway Safety (IIHS) named the 2013 Fusion a "Top Safety Pick." It's an impressive achievement that is awarded only to vehicles which receive a "Good" rating in moderate overlap frontal impact, side impact, head restraint, and roof strength crash testing.
While it's good news for the 2013 model year, the news hasn't always been so good for owners of previous Fusion vehicles.
The Top 5 Reported Ford Fusion Problems
CarComplaints.com has complaints on file that cover model years 2006-2013 of the Ford Fusion, so we compiled a list of the the top five reported problems with the Fusion, according to owners and drivers.
1. Interior Accessory Problems
Interior accessories can include anything from a busted door handle to a malfunctioning heated seat. According to Fusion owners, it's the things inside the vehicle that can cause the most headaches.
The 2006 model has the worst track record, specifically for problems related to door handles and the handle mechanism. Sure, it might seem like a minor problem compared to a transmission going out, but still, it's no fun to throw out a few hundred dollars at a dealership for just a handle.
One Fusion owner said her dealer told her it would cost up to $250 to fix, and that the problem "happens all the time" and they had to "fix a lot of these."
"Went to open the door and the handle made a 'clonk' noise," said a Birmingham, Alabama, Fusion owner. "A piece of the 'chrome' shot across the interior of the car, the handle wonked sideways, and the door lock button cocked out funny. The door still opens and closes, but won't lock."
2. Transmission Problems
More of a problem in the 2010 Fusion, owners say it's been an expensive problem, especially in vehicles that required a complete overhaul.
Fusion drivers complain of transmissions that hesitate, slip, and fail to shift. Additionally, owners haven't appreciated the way Ford handled the situation, including Letizia, of Brooklyn, New York.
"Turns out we need a brand new transmission on a 2.5 year old car with 17,000 miles on it," Letizia said. "I am so disappointed with the way Ford has handled the most recent problem we have come across with our Fusion."
3. Electrical Problems
One of the most pesky problems a driver can experience, trying to track down an electrical short can be a pain, especially when your lights decide to go out at night.
Electrical problems can include turn signals going on the non-blink, inside lights that go wacky, batteries that drain, or even a window or sunroof that opens and closes on its own.
Philip, of Antelope, California, knows the frustration all too well. Philip said his windows and sunroof on his 2011 Fusion would open when the vehicle wasn't running and left unattended. Even after it happened five times, the dealer couldn't track down the problem.
"Who wants to live in fear of not knowing if your car is secured enough when you go to get into it that someone could be actually hiding in the back seat or your possessions could be wide open for someone to easily take or case of bad weather damaging the inside and the price on this car is $30,000?" Philip complained to CarComplaints.com.
4. Engine Problems
Every car can have engine problems, but when the vehicle has less than 1000 miles to its name, that's not a good sign. One California driver of a 2012 Fusion said it's been the worst experience he has had even after buying many new cars.
"I bought a brand new 2012 Ford Fusion, and noticed a knocking noise from the motor, after about 400 miles," said Stephan, of Downey, Calif. "The whole motor was replaced, after the car stayed in the dealer's shop for about 2 weeks. Then after I received the car, I noticed that the radiator fan remains on all the time when the car warms up. Now the dealer is telling me that they believe the problem is coming from the cylinder head."
5. AC/Heating Problems
Air conditioning problems can mean anything from no cold air to a failing heater core. One of the problems we have heard more than once is how the driver's feet can turn to ice in the winter, mainly in the 2010 model year. Kim, of Fenton, Michigan, is one such driver.
"Took the car in under warranty because when the heat set at floor only barely seems to come out. If you set it to defrost and floor that's the only way it comes out where you can actually feel it but it also comes out the vents that hit the window which in turns hits your face," Kim complained.
"The dealership's explanation for this was, that's just they way they make all cars now and there's no fix. If Ford believes this is the standard they are definitely below standard in my book because I know for a fact that statement isn't true about the floor heat."
Ford Fusion Problems Through the Years
To read complaints about specific model years of the Ford Fusion, click on your year: 2006, 2007, 2008, 2009, 2010, 2011, 2012, 2013.