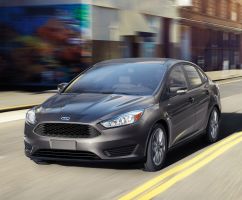 — A Ford PowerShift transmission warranty extension has been announced for 2014-2016 Focus cars and 2014-2015 Fiesta vehicles equipped with automatic DPS6 transmissions.
The PowerShift transmissions have caused hundreds of lawsuits and thousands of complaints which allege Focus and Fiesta vehicles hesitate, jerk, shudder and accelerate without warning.
The Ford PowerShift transmission warranty extension isn't a recall and won't be treated like one by Ford or the government. The automaker calls the warranty extension a "customer satisfaction action," one that will be joined by another action to provide a free software update to any affected Focus or Fiesta that hasn't yet received the update.
Ford says the software update provides a better warning if the transmission control module begins to fail, and the automaker will replace modules for free for up to six months past the 10-year/150,000-mile module warranty.
The warranty extension for the six-speed dual-clutch transmission includes the clutch and related hardware on vehicles which originally had warranties of 5 years or 60,000 miles.
The extension increases the warranty to 7 years or 100,000 miles, and Ford has agreed to reimburse Focus and Fiesta customers who paid out-of-pocket for clutch repairs.
The 2014-2016 Focus cars were built from July 4, 2013, to November 5, 2015, and the 2014-2015 Fiestas were produced July 4, 2013, through October 15, 2014.
The National Highway Traffic Safety Administration (NHTSA) hasn't asked Ford to perform an official recall because federal safety regulators say they haven't found any evidence of an unreasonable risk to safety.
NHTSA says it has studied customer complaints about PowerShift transmissions and data associated with the components and will continue to monitor the situation and take action if necessary.
"Ford understands and regrets that many customers have been inconvenienced and frustrated by the performance of the DPS6 transmission. Earning and keeping the trust of customers is vital to everything we do. That is why Ford and its dealers have gone to great lengths to improve the performance of the transmission. While these vehicles always were and remain safe to drive, we regret the inconvenience our customers have experienced." - Ford statement
Hundreds of thousands of Canadian and U.S. Fiesta and Focus customers will receive letters from Ford explaining the PowerShift warranty extension and software update.
Ford Focus and Fiesta customers with questions about the transmission warranty extension may call a dedicated hotline: 833-805-3673.
The automaker recently settled a PowerShift class action lawsuit in Canada and the automaker is buried under legal paperwork related to lawsuits filed in the U.S., as seen below.