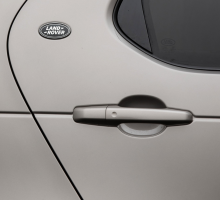 — A 2017-2020 Land Rover Discovery recall has been announced for 30,000 vehicles because of problems with the UniLatch Keyless Vehicle door latch systems.
The system could fail to latch the rear doors and allow the doors to open while driving. Land Rover says the instrument panel open-door warning light may also fail.
Land Rover opened an investigation in January 2020 following reports of rear doors opening while driving.
In May 2020, engineers confirmed the Discovery rear door latch sealing system could allow "a water flow path into an area where it could enter the rear door latch and into the Keyless Vehicle (fast-latch) actuator housing."
The water caused the motor bearings to corrode because the system was not designed for moisture. Land Rover also found the rear door can appear to be secured when it is not.
The automaker has some experience with door latch recalls because 2013-2016 Range Rovers and 2014-2016 Range Rover Sports were recalled over the door latch problems in 2015.
However, the government opened an investigation when Land Rover owners kept complaining about the door latches.
Then in June 2019, another Land Rover door latch recall was announced, followed by another door latch recall.
But then in July 2020 another Range Rover door latch recall was issued.
Regarding this latest door latch ecall, Land Rover will mail Discovery recall letters July 28, 2023.
Apparently Land Rover gave up trying to fix the door latch problems because this time dealers will fix the problem by disabling the UniLatch Keyless Vehicle entry functions.
Owners of 2017-2020 Land Rover Discovery vehicles may contact Land Rover at 800-637-6837 and ask about door latch recall N798.
Read about previous Land Rover door latch recalls and other actions: