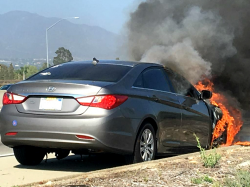 — Hyundai and Kia fires have led to a lawsuit that alleges oil sludge clogs the oil ports and interferes with the lubrication of the engines.
The proposed class-action lawsuit also alleges the oil sludge contains metal debris that works as an abrasive on the engine parts, causing the engines to seize and sometimes catch fire.
Included in the lawsuit are all U.S. former and current owners and lessees of the 2011-2014 Kia Optima, 2011-2013 Kia Sportage, 2011-2014 Hyundai Santa Fe and 2011-2014 Hyundai Sonata.
The vehicles are equipped with 2-liter or 2.4-liter engines that allegedly contain debris that was left in the engines during manufacturing of the crankshafts.
The plaintiffs who filed the class-action claim Hyundai and Kia customers must pay tens of thousands of dollars for repairs while still making monthly payments for vehicles that cannot be driven.
The plaintiffs also claim their credit is shot to hell when Hyundai and Kia promise to pay the financing on the vehicles when the repair costs exceed the values of the vehicles.
Based on court documents, Hyundai and Kia are accused of concealing engine problems caused by oil sludge the automaker has long known about. The automakers also allegedly hid the dangerous consequences of driving the vehicles when the risk of fires was so high.
In addition, the plaintiffs say Hyundai and Kia dealers routinely refuse to repair the vehicles even though they are under valid warranties.
As for knowing about the fire dangers, the lawsuit alleges both automakers are fully aware of widespread customer complaints and have taken action in the past to allegedly repair the vehicles.
The lawsuit references Hyundai recalls and Kia recalls issued over engines that could seize, and the plaintiffs also refer to actions taken by the National Highway Traffic Safety Administration (NHTSA) and Congress in an effort to learn more about potential engine fires.
A Senate Commerce Committee hearing was a bust after Hyundai and Kia executives said they wouldn't attend because it wasn't fair other automakers weren't asked about fires in their models.
As for federal safety regulators, they are investigating recalls ordered by both automakers to determine if enough was done for consumers in the wake of increased fire reports.
According to the lawsuit, customers report being stranded on the roadsides watching their vehicles burn to the frames, then learning relatively simple engine oil flushes, new oil and oil filter changes may have prevented the engine damage and fires.
According to the plaintiffs, Hyundai and Kia admit certain models and model years have engine issues, but the plaintiffs complain both automakers refuse to acknowledge other models have the same problems.
The Hyundai and Kia engine fire lawsuit was filed in the U.S. District Court for the District of New Jersey - Chieco, et al., v. Kia Motors America Inc., et al.
The plaintiffs are represented by the Law Office of Shmuel Klein, PA.
CarComplaints.com has complaints filed by drivers of the models named in the engine fire lawsuit: