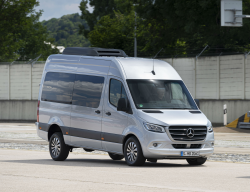 — Daimler Vans is adding to its Sprinter recall woes by issuing another recall in 2019, this time for 153 vans with abutting wedges that weren't installed correctly.
The abutting wedge is attached to the door jamb to make it easier to open the door following a severe frontal crash.
The 2019 Mercedes-Benz and Freightliner Sprinter vans will be inspected by technicians who will correct any abutting wedge mistakes.
The Sprinter van recall is expected to begin November 22, 2019, but customers with questions should call 877-762-8267 and use recall number VS3KEIL.
Read about Sprinter van recalls announced since 2018.