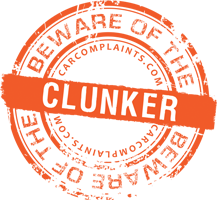 — At the end of each year, CarComplaints.com releases our list of the worst car problems and cars based on data from over 150,000 reports from vehicle owners. Not surprisingly, some vehicles make the list each year because the problems only get worse over time.
For this year, we decided to list the top reported complaints of any make, model, and year, then list the model year 2013 vehicles that are already showing problems, even though 2013 just ended.
---
Top Vehicle Complaints of 2013
Cracked Dashboards - Dodge Ram
What's the difference between a something labeled a "cosmetic" defect compared to a "safety" defect? Everything, if you're an owner of a 2001-2003 Dodge Ram 1500 or a 2003 Dodge Ram 2500.
Consumers have complained for years about dashboards that crack to the point of being a serious safety hazard. However, Ford and the government view the problem as only a cosmetic issue, not anything safety-related that could cause a recall.
Dodge Ram owners say they must face exposed wires, sharp edges, and sharp pieces of plastic that can cut the skin and damage the eyes.
CarComplaints.com has received 500 complaints about cracked dashboards, and that's just on the 2001 Dodge Ram 1500, not counting other models and years.
A good example is a California driver who crashed their truck because of debris flying from the dashboard.
"Turned the fan on and tiny piece of plastic flew into my eye causing me to crash into a parked flatbed truck,bouncing off and over embankment down hill into a tree almost taking out a family of 4 that were having a picnic celebrating their 3 yr olds birthday."
The driver said the accident caused them to miss work, required stitches to their eye, and caused a $4000 repair bill to their truck.
Cracking up because of a cracked dashboard? Expect to pay $500-$1000 to fix the problem.
Read complaints about cracked dashboards in the 2001 Dodge Ram 1500, 2002 Dodge Ram 1500, 2003 Dodge Ram 1500, and 2003 Dodge Ram 2500.
Transmission Ruined by Coolant - Nissan Frontier, Pathfinder, Xterra
Antifreeze is a great liquid, as long as you're not driving a model year 2005-2010 Nissan Xterra, Pathfinder, or Frontier.
Owners of these vehicles, especially model years 2005-2007, know what happens when antifreeze invades the transmission, a problem that has been reported for years on end. Common symptoms include vibrations, noise, stalling, and finally transmission failure.
A class-action lawsuit was settled in 2010 but it didn't do much (if anything) to help many owners. Nissan finally agreed to extended warranties, but only under certain conditions.
First, a customer will need to pay between $2500 and $3000 of the repair cost after 8 years/80,000 miles to 10 years/100,000 miles. Doesn't sound like much of a legal victory, does it? Further, a customer has to pay the entire cost if the vehicle has more than 100,000 miles. Not a good "settlement" considering the average cost to replace the transmission is $4500, or more.
Read complaints about cracked radiators and ruined transmissions in the 2005 Nissan Pathfinder, 2006 Pathfinder, 2007 Pathfinder, 2005 Nissan Xterra, 2006 Xterra, 2007 Xterra, 2005 Nissan Frontier, 2006 Frontier, and 2007 Nissan Frontier.
Brake and Engine Problems - Dodge Journey
Remember how Fred Flintstone used his feet to stop his car? Owners of the 2009-2010 Dodge Journey know that feeling considering they spend much of their time driving with lousy brakes.
Adding insult to injury is the high number of complaints about engine problems in the 2009 Journey. But for a moment let's imagine the car actually starts and you'll need the brakes.
Dodge Journey Brake Problems
"The second time having to replace all of my brakes!!!! Seriously, under 60,000 miles on my car and I have had it almost 4 years. Less than 20,000 miles being put on my car in a year and all of my brakes need to be replaced again." - 2009 Dodge Journey owner.
That complaint is only one of hundreds that tell of brakes and rotors needing to be replaced on a regular and much-to-early frequency. You might make it 20,000 miles, but expect to repeat the ordeal after another 20,000 miles. Better start saving your pennies since the average cost for repairs is about $400.
Read complaints about brake and rotor hell on the 2009 Dodge Journey and the 2010 Journey.
Dodge Journey Engine Problems
While you're waiting for the brakes to fail on the 2009 Journey, you might also be waiting for the engine to start. Owners typically say they still have electrical power such as lights and radio, but dealers have been known to blame the problem on everything from key fobs to the car not recognizing it is in "Park". In other words, dealers have no idea what's going on.
"Add me to the list of people complaining about their Dodge journey. I have a 2009 and it has been a nightmare. First the brakes went out, that cost me $600. Now it hasn't been wanting to start on and off for several months. I do everything short of standing on one leg singing the Star Spangled Banner to get it to start."
Read complaints about eccentric engines in the 2009 Dodge Journey.
Peeling Paint and Transmission Problems - Honda Civic
Should auto paint last the life of a vehicle? Most think so, unless the car sits 50 years in the sun. Even then, paint might only fade, not completely peel and fly away. But owners of the 2006-2007 Honda Civic know what it's like to watch their paint and clearcoat take a vacation from their cars.
Honda says it's just normal wear and tear and even if the car looks like junk, peeling paint isn't a safety defect. In court, Honda says the problem typically occurs after the warranty has expired, so the cost of a new paint job is placed on the owner.
"Started noticing the paint on roof was not as glossy as the rest of the car. I used to detail cars so I knew what was happening. The clear coat on the roof was too thin. 6 months later and 70% of clear on roof was gone."
Owners complain the clearcoat is just too thin to offer any real protection. Cost of a new paint job? A low average is about $600 while many people say the entire job made them shell out about $2000.
Check out complaints and pictures of how bad the peeling paint problem really is on the 2006 Honda Civic and the 2007 Civic.
Civic Transmission
The Civic also made our list because of transmission problems in older models, going back to 2001 and 2002. An argument could be made that these are older vehicles and things do go wrong with old cars. However, the reported transmission problems are beyond that argument.
Based on CarComplaints.com data, the magic number seems to be 100,000 miles when the transmission fails and leads to a cost of about $2400.
"Was so proud of my Honda...took care of her, regular check-ups, etc., ...couldn't accelerate, then finally just stopped, across town.... ugh. Got the car towed and almost immediately found out that the transmission was shot, $2200 and 2 weeks later I had her back. Now, with 80k miles on the new one, I'm starting to have problems again."
Brake, Engine, and Transmission Problems - Honda Accord
Honda is the proud recipient of having two models on our list for 2013. Honda Accord owners have just as much to worry about as Civic owners. Owners of the 2003, 2008, and 2009 Accord have their work cut out for them trying to cope with transmission, engine, and brake problems.
CarComplaints.com has over 1,200 complaints about premature brake wear on just the 2008-2009 Accord. Think those 70,000-mile brakes will last 70,000 miles? Not even close. Many owners say their brakes started failing at 20,000 miles, an expensive habit, especially if the rotors are involved.
"I buy Honda because of quality, reliability and reputation. For some reason, the clowns in the engineering department at Honda decided to change the way the brakes work in the rear of the 2008 Accord. They were just fine before. Now they wear prematurely. They wear out before the front brake pads are half way worn through! THIS IS UNHEARD OF as the front brakes do roughly 70% of a car's braking." - 2008 Honda Accord owner.
The 2008 Accord also takes home a trophy for drinking oil at an incredible rate and causing engine problems. Honda knows of the problem because they sent out notice to dealers blaming the problem on the variable cylinder management system. Honda mechanics were told to update the software to fix the problem.
And the 2003 Accord? You might want to think twice about this car unless you enjoy the transmission shifting when it shouldn't, not shifting at all, or going completely out.
The 2003 Accord has been recalled 14 times but only one recall was transmission-related. That was in 2004 when Honda said heat build-up between the countershaft and secondary shaft second gears could lead to gear tooth chipping or gear breakage. Result? Transmission lockup.
Read complaints about brake problems in the 2008 Accord and 2009 Accord.
Read complaints about transmission problems in the 2003 Honda Accord.
---
Worst Vehicles From the 2013 Model Year
You expect a great ride any time you buy a new car. Sounds like a good plan considering how much a new car can damage your bank account, maybe for years. But just because that vehicle is new doesn't mean it will be a smooth ride.
Keep in mind, every vehicle we have listed so far was once new. It's just that sometimes you can spot a trend when you notice problems as soon as you drive the vehicle off the lot.
Some 2013 vehicles have already gained a reputation for owner complaints, especially with CarComplaints.com. Here are the top 5 worst 2013 vehicles for the year 2013.
2013 Nissan Altima
The 2013 Altima has already acquired a track record of complaints about the transmission and power steering problems. This early in the game? Yep. The transmission begins making a whining or growling noise, then starts shuttering as if in an earthquake.
"From day one this car had transmission problems. And, the reason I bought the car was because my older car also had tranny problems but it is 13 yrs old. This Altima won't even make it that long. The car's been back 4 times and they have already replaced the transmission..." - 2013 Altima owner with only 102 miles on the car.
Speaking of whining, owners of the Altima complain about the power steering screaming like a banshee.
"New electric power steering pump emits a high pitch whine audible inside and outside the car. Totally annoying to all inside. Nissan corporate says it is normal... ha ...dealers aware say they cant fix without recall and parts."
Nissan dealers have added more insulation around the power steering pumps and replaced the pumps, all to no avail. Some owners say the only way they fixed the problem was by turning up the radio to drown out the whining.
Read complaints about the 2013 Nissan Altima.
2013 Honda Accord
We hate to sound like we're picking on the Honda Accord, but our complaint database is unbiased about which vehicles are falling apart. The 2013 Accord is already having issues with the radio, transmission, and the dreaded driver seat.
The seat is once again raising eyebrows for being so uncomfortable that some people actually get rid of the car. It's nothing new, really. The top complaint in 2010, 2011, and 2012 was the seat. Read about that here.
The 2013 Accord is also facing issues with the radio and audio controls. It doesn't sound like much compared to transmissions, but audio systems are expensive and should work correctly.
"I see others have this problem. It's happened three times in the three months I've owned the car. Everything that comes through the sound system -- AM, FM, XM, Bluetooth phone, CDs -- sounds horrible; tinny, distorted."
And what of the 2013 Accord transmission? Owners complain the transmission slips and shifts much too hard, especially when coasting downhill. It's a new vehicle so it's covered by warranty. But should a brand new transmission be acting up like this already? And how bad will it be in just a few years?
Read complaints about the 2013 Honda Accord.
Ram 1500
We already mentioned the numerous issues with cracked dashboards in early-model Dodge Rams, but the 2013 Ram 1500 isn't off to a good start, either.
Notice we said 2013 Ram 1500, not "Dodge" Ram 1500. Dodge made Ram a separate brand in 2012, so it's not called a "Dodge" Ram any longer. Don't ask us.
No matter, the Ram 1500 still makes our 2013 list not because the dashboards are already falling apart, but for GPS and radio problems. We can expect these types of complaints to increase as vehicles become computers on wheels.
The 2013 Ram 1500 seems to have serious problems with the GPS and UConnect.
"Gps went crazy, was telling me i was driving off into a lake several times..."
"The center screen goes into reboot mode and sometimes resets but sometimes stays off until the truck is parked for a while and then restarted. When it is in this mode I do not have any radio controls, heat controls, my backup camera do not display, my phone access do not work, the dash display behind steering wheel tell me that the key is still in ignition when it's not, etc."
Click here to read complaints about the 2013 Ram 1500.
2013 Hyundai Elantra
Is it possible for a vehicle to get worse each year it's made? That's exactly what our data indicates about the 2013 Hyundai Elantra. Hyundai has already been hit with a class-action lawsuit for inflating mileage claims. That lawsuit was just settled for about $400 million. But the mileage claims are just one problem facing Elantra owners.
Owners of the 2013 Elantra are screaming about brakes that start to grind after just a few thousand miles on the vehicle. Sure, the Elantra is under warranty, but who wants to mess with replacing brakes and rotors that early in the game? Plus, how many more times will the brakes need to be replaced?
Here's what one Elantra owner said after driving the car only 500 miles:
"I have had the car to the Hyundai dealership many, many times in the first year and it has yet to get fixed. They have replaced rotors and pads and it still has a terrible creaking and grinding noise. You can feel it through the frame of the car."
Read complaints about the 2013 Hyundai Elantra.
Honorable Mention: Vehicle Most Likely to Catch on Fire
There were many recalls and investigations of various vehicles for the risk of fire, but one vehicle stands above all others: The 2013 Ford Escape.
The 2013 Escape even faced a recall of a previous recall over the risk of fire because the first recall didn't fix the problem. Ford even told owners to immediately park their Escape because a gas line could break and cause a fire.
Here's a sample of the fire hazards of the 2013 Ford Escape: